Where has everyone been hiding?


I managed to get a few new spring bulbs in the ground and we rearranged the gardens a little bit while we were digging around in there. Can't wait to see how it turns out in spring! I didn't get as many in as I was hoping to but with a newborn around I figured I did pretty well. Our yard is pretty much winterized now, just a few stray leaves to rake up.

Is anyone in holiday mode yet? I haven't even thought about it but I see people around the neighbourhood have Christmas lights up and turned on already... in fact, some of them came on November 1st (!!!). Lots to do in the coming weeks for our little family I guess!
Just wondering what everyone is up to as we start to gear up (or get ready to hibernate) for winter? Do you have any last minute stuff to do 'round the house before the snow flies?


20 Little Things To Treasure in Autumn

Quiet dinners by the fire
Reading mystery novels in darkened rooms
Flannel sheets at the end of a long day
Candles Flickering
Smelling cinnamon, oranges & cloves
Pumpkins
Roasts, Potatoes & Carrots
Fluffy feather beds on a cold night
Watching movies snuggled in soft blankets
Cozy socks
Pie in the oven
Warm crackling wood stoves
Squash with buttered brown sugar
Chili and corn bread smothered in honey
Wind blowing through leaves
Glow of lamps through windows
Laughter filling a room
Scrabble and popcorn
Caramel apples
Family

So what are YOU looking forward to??
This summer has just flown by! I have been extra busy with my beautiful grandbabies ( and we have another on the way!) It was a ridiculously hot summer here in Cali so I for one am really looking forward to FALL! As this warm and sunny season begins to wind down thoughts of Autumn are swirling around my head like wind-blown leaves!
Current Mood:

contemplative


My age is: 28

I live in (state or country if not in the US): Wisconsin

My relationship status is (married, single, taken, etc.): Single... for the past five years. I hope that will change someday.

Tell us a little bit about your home, is it a condo, apt, house, mobile home, yurt,etc : I live in a low income apartment complex in a small town of 63,000 people. I'm personally not happy living here by any means and I feel like I just don't belong here. However, until I move, I try to make the most out of a bad situation by making my place comfortable and going to college. Maybe something might take me home to where I should be someday.

My decorating style is : thrifted, shabby chic, bohemian and romantic. it's kind of mixed together into one style.

How many children and/or pets: No children. one cat

Something domestic I could use help with: cooking. I am okay with it, but I'm no Barefoot Contessa or Martha Stewart. However, I do plan on taking a culinary arts class in college one of these days.

My favorite "guilty pleasure" is: I'm a sucker for romance novels, except for twilight.

My favorite domestic activity is: decorating

My least favorite domestic chore is: Dishes. I cut my hand in February on a broken glass and had to get four stitches. That was the first time I ever had stitches beyond operational and I was pretty scared of the blood flow. However, I am rather proud of myself for keeping calm at least. Normally I'd be having massive panic attacks or faint.

I found this community through (referral from member, community promo, random, etc.): Search

Please list any special talents or interests: Writing, drawing, psychology, photography and decorating!
My name is (you can use your real name or the name you want to be referred to as) : Lisa

The weather has been so lovely here we are actually thinking of having our Easter luncheon at the park this year. Because we will be having it at the park we've changed our menu from the traditional ham dinner to fried chicken, potato salad, chips, you know basically picnic food. I think it will be fun especially for the little ones, more room to play.
I'm putting together baskets for the little ones ages 1-5. Any ideas?
For those of you who celebrate, what are your plans?
Current Mood:

cheerful
this banana ice cream recipe
and James and I LOVE IT. You freeze some bananas (for at least a few hours). Then slice them and drop them in a food processor (or you could use a blender or hand mixer). You blend until it has the consistency of ice cream. DONE!
Eat as it is, or add flavors (chocolate, vanilla, mint, peanut butter...).
I added (sugar-free, natural) peanut butter and some powdered nesquik... It didn't even TASTE like bananas. Just chocolate-peanut butter ice cream! SO GOOD!
I found
Here
is what the outside of our house looks like. I did swags of greenery on the front porch with a wreath near the center post, a wreath on the door and two trees in urns flanking either side, all in white lights.
************
Hopefully I'll be able to do a video soon, but here's a peek at our living room. We do shades of garnet and gold ornaments paired with old world santas. Keep in mind, we have a point and shoot and we've yet to master all of the settings. Without knowing how to really work the apertures, there were a lot of splashes of light, but I like the way it works in the first photo.
Next year, I'll probably work a ribbon 'round the circumfrence of the tree and add a few more ornaments. Every other year I hope to add a slimline tree to the three remaining windows in the front of the house, each with a different theme. My next one is slated for icy colors with snowflakes.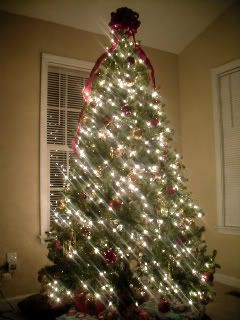 (
Image heavy
Collapse
)
Sorry this is so, so late. With getting settled into the new house at the end of November, the whole month of December just felt like it whooshed on by. Anyhow, this is crossposted from my personal journal.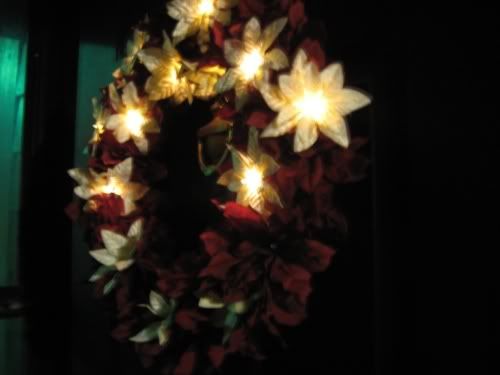 We finally busted out the Christmas decorations this week. I even went so far as to finish the wreath I started 3 years ago (above.) I got random bits of crazy Christmas decorations from my grandparents ages ago and I've ended up with some really awesome and hilarious stuff. We should probably take the time to make/get more stuff that represents the two of us. Then again, it took me 3 years to get the wreath done, so perhaps *get* is more likely than *make* and possibly even cheaper.
(
more decoration including the Batman tree
Collapse
)